In May, a group called Accountable Tech, which calls itself a "small nonprofit taking on Big Tech companies," organized a corporate boycott to protest Elon Musk's bid to buy Twitter. In the midwest, a group called Opportunity Wisconsin, which bills itself as a "coalition of Wisconsin residents," ran a deluge of TV ads slamming Republican senator Ron Johnson for his tax policies. And in Arizona, an organization of "grassroots racial justice" activists called Just Democracy released a video blasting Democratic senator Kyrsten Sinema for failing to support the Biden administration's legislative agenda.
None of these groups actually exist. They are all registered trade names for the North Fund, a shape-shifting nonprofit group that uses aliases to push an array of left-wing causes from a shell office in Washington, D.C., according to corporate records.
Political watchdogs say the fund, which isn't required to disclose the donors behind its $66 million budget, is gearing up to be one of the most consequential dark-money players of the midterm elections. And while "astroturf" groups are nothing new in politics, critics say the North Fund is part of a new breed—moving away from specific policy advocacy and delving into electoral politics.
"North Fund has said screw it," said Hayden Ludwig, a senior investigator with the Capital Research Center. "They've just decided to be as partisan as they can."
"Their money has been pretty much exclusively focused on Senate races, on ballot initiatives, and a few things kind of related to that," Ludwig added. "The general theme there is cementing permanent Democratic majorities in Congress."
The North Fund, which was founded in 2018, is helmed by a handful of Democratic operatives, including former Clinton aide Jim Gerstein. It operates under at least eight trade names, according to D.C. corporate records, including "51 for 51," a group pushing for statehood for the heavily Democratic District of Columbia, and the "Voting Rights Lab Action," which advocates for voting policy reforms favorable to Democrats.
Under the guise of "Opportunity Wisconsin," the group has poured $4 million into negative TV advertising against Johnson, making it one of the top-spending outside groups in the state. Through another alias, the "Democracy Docket Action Fund," the nonprofit has helped finance state-level redistricting lawsuits that favor Democrats across the country. And the "Accountable Tech" boycott campaign, which seeks to pressure Twitter to restrict speech from conservative outlets and Republican politicians, has received international news coverage.
"From trying to make D.C. a state to funding [Democratic operative] Marc Elias's politicized lawsuits, North Fund's presence is often felt but their very existence is virtually unknown," Caitlin Sutherland, the executive director of the Americans for Public Trust watchdog group, told the Washington Free Beacon. "If untraceable money is flooding the latest policy or legislative fight under the guise of grassroots activism, chances are, North Fund is behind it."
Critics say organizations like the North Fund can also have an outsized impact on the private sector, because corporations have a hard time discerning its work from bona fide grassroots groups.
"Corporations rarely understand that a vast majority of these boycott campaigns are organized and run by hyper-partisan political hacks instead of thoughtful and experienced policy experts," one tech industry insider familiar with these boycott campaigns told the Free Beacon. "They disguise themselves in idealistic sounding group names while structuring their organizations in such a way that hides the true motivations and identity of their large donors."
The North Fund received $66 million in 2020, according to its public tax disclosures, nearly all of it from large contributors. Over 93 percent came from donors giving over $1 million.
While the North Fund doesn't disclose the names of its contributors, it is required to report the donation amounts. Americans for Public Trust was able to trace some of the funding using grant data from other nonprofits.
Sutherland found that the North Fund received $19.3 million from the Sixteen Thirty Fund and over $11 million from the New Venture Fund, two organizations that share an address in D.C. Similar to the North Fund, the groups operate under at least 50 trade names—including "Fix Our Senate," "Floridians for a Fair Shake," and the "Voter Engagement Fund."
However, the Sixteen Thirty Fund and the New Venture Fund don't disclose their donors either, leading to a dead end in the money trail.
The North Fund declined to comment on its funding relationships or its use of trade names. The group told the Free Beacon that it "follows all disclosure requirements related to the disclosure of individual donors and grantees."
"The North Fund is a nonpartisan social impact organization that partners with community leaders and organizers to help make our society a more just, fair, and equitable place to live, work, and raise families," said the North Fund in an emailed statement. "As a fiscal sponsor, the North Fund provides operational and administrative support to projects, including legal and compliance, HR, accounting and payroll, and grantmaking support."
Despite its large budget and impact, the North Fund has almost no physical footprint. When the Free Beacon visited its office in downtown D.C.—a co-working rental space managed by the company Carr Workplaces—the front desk manager said the North Fund uses the address but doesn't maintain a presence there. "I'm not sure where they're actually located," he said.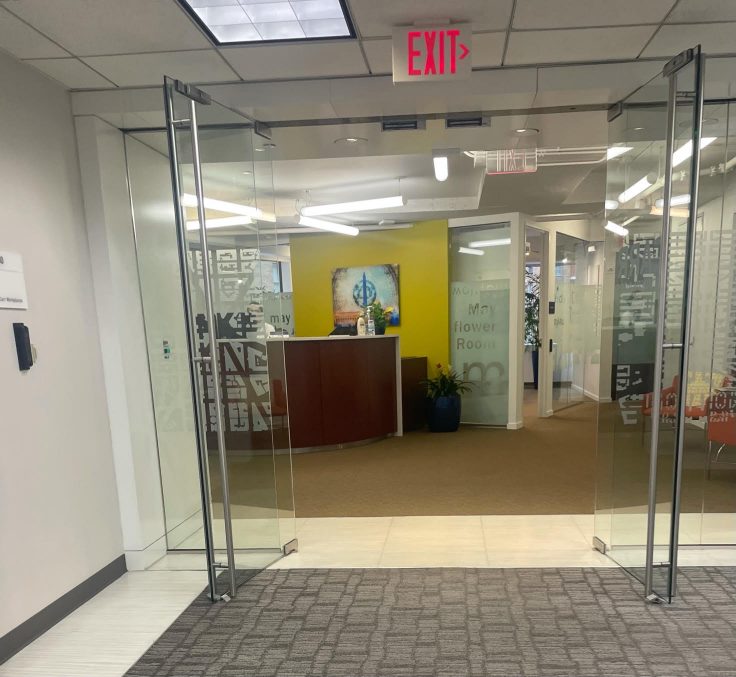 The North Fund is managed by a Democratic consulting firm called Arabella Advisors, which also keeps the copies of the fund's public financial documents, according to the fund's tax disclosure records. Nonprofit groups are required to provide physical copies of these records to members of the public who request them in person, a spokesperson for the IRS told the Free Beacon.
But at Arabella's office building in D.C., the lobby receptionists told the Free Beacon they were under strict orders from the firm to turn away all outside visitors.
When the Free Beacon stopped by the listed D.C. address for the Sixteen Thirty Fund and the New Venture Fund—the North Fund's primary donors—their cavernous, full-floor office suite was deserted.
The groups had recently moved out, leaving just a couple of office chairs, the logo for Arabella Advisors emblazoned on the floors, and a piece of paper taped to a radiator that read, "Loose Lips Sink Ships."