How Obama Corruption Stooge Steven Chu lost his battle with Washington.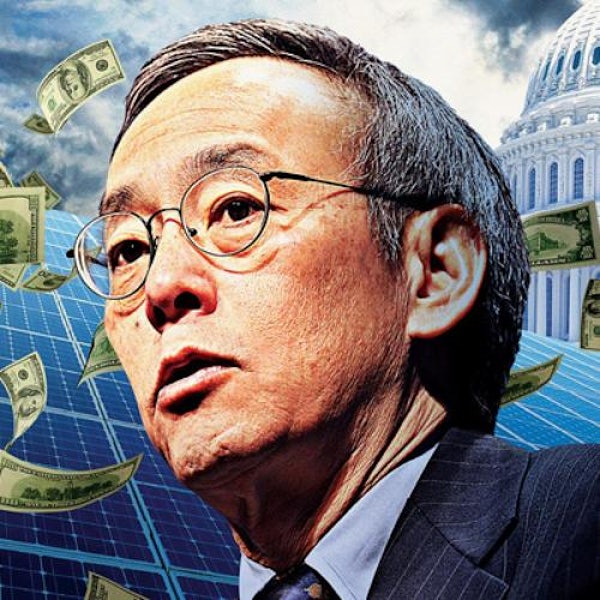 In August 2008, a week before Barack Obama went to Denver to collect his nomination, Steven Chu stepped onto a stage in the University of Nevada, Las Vegas's Cox Pavilion. The 60-year-old physicist was a towering presence in his field, a Nobel Prize winner and the director of Lawrence Berkeley National Laboratory in California. But he was largely unknown to the Washington-centric crowd of several hundred, in town for a clean energy conference co-hosted by Senate Majority Leader Harry Reid and the Center for American Progress (CAP) Action Fund. Trim and bespectacled, with wispy graying hair parted over a high forehead, Chu began his remarks with the nervous throat-clearing of a scientist who had not yet completed the transition to a more public life.
Chu invited the crowd to consider a temperature increase of five degrees Celsius, only slightly beyond what the world is expected to hit by the century's end in middle-of-the-road climate change forecasts. "Climate change of that scale will cause enormous resource wars," he said, "over water, arable land, and massive population displacements." This vision of planet-wide catastrophe was not new, but Chu's flat cadence, his chilly laboratory demeanor, gave the picture an unsettling crispness. "We're not talking about ten million people," he continued. "We're talking hundreds of millions to billions of people being flooded out, permanently."
Then Chu pivoted, arguing with the same matter-of-factness that the doomsday scenario he had described was entirely avoidable. Western Europe enjoyed a quality of life comparable to America's with far greater energy efficiency, he explained; technological innovation had allowed California's economy to double in size over the past third of a century even as its electricity use remained flat. Tighter regulations had made American refrigerators not just 75 percent more efficient than they were three decades earlier, but 60 percent cheaper and 20 percent larger, too. "Miraculously," Chu deadpanned, "the manufacturers had to assign the job to the engineers instead of the lobbyists. And this is what you get." The audience applauded; Chu's delivery, once hesitant, now had a confidence bordering on swagger.
In conclusion, Chu showed his audience the famous "Earthrise" photograph, taken by the astronaut William Anders from the Apollo 8 command module as it orbited the moon on Christmas Eve 1968. It showed the Earth, a gleaming whorl of blue and white, emerging out of the moon's shadow into sunlight. "A beautiful planet, a desolate moon," Chu said. "And focus on the fact that there's nowhere else to go."